As one of the fastest growing regions in Canada recognized for its entrepreneurial spirit, booming technology sector and flourishing wine industry, the Okanagan has a lot going for it. But what might our collective future look like? What new opportunities are on the horizon for Okanagan communities? What is the role of education in realizing those opportunities? What can we do to future-proof the valley in the face of economic, social, and environmental change? Join the leaders of Okanagan College and UBC's Okanagan campus for a thought-provoking discussion on the Okanagan today and in the years ahead, moderated by Accelerate Okanagan CEO Raghwa Gopal.
About the Speakers: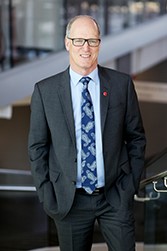 Jim Hamilton, President, Okanagan College
Jim Hamilton was appointed President in 2004, having held numerous positions at the College since he arrived in 1980. He holds a Master's Degree in English Literature and serves on numerous boards, including as Chair of the BC Council for International Education, Board member of the Asia Pacific Gateway Skills Table, member of the British Columbia Council for Admissions and Transfer, and Director of the Irving K. Barber British Columbia Scholarship Society. He has also served as Chair of the Trades Training Consortium of British Columbia and Chair of BC Colleges.
Deborah Buszard, Deputy Vice-Chancellor and Principal, UBC Okanagan
Professor Deborah Buszard is Deputy Vice-Chancellor and Principal of UBC's Okanagan campus. Before joining UBC in 2012, Professor Buszard was at Dalhousie University where she served as Director of Environmental Programs and coordinated an initiative to create a new college and university-wide academic programming in sustainability. Prior to joining Dalhousie in 2006, she was Professor of Plant Science at McGill University and served as Dean of Agricultural and Environmental Sciences and Associate Vice-Principal of the Macdonald Campus from 1996 to 2005. A plant scientist and strawberry breeder, she is the author of numerous scientific and technical publications. Born in the UK, Professor Buszard received her PhD from the University of London.
Moderator:
Raghwa Gopal, CEO, Accelerate Okanagan
Raghwa is a serial entrepreneur who was instrumental in starting, growing and selling numerous businesses over the last 30 years and has extensive experience in mergers and acquisitions. He is a certified Business and Executive Coach and has been recognized as Entrepreneur of the Year and as a Technology Innovator.
This event is brought to you by the Kelowna Chamber of Commerce.