TELUS Officially Opens Telus Garden - Canada's Most Sustainable Office Tower - in Downtown Vancouver
24-storey TELUS Garden office tower first in Canada built to new LEED Platinum standards
Vancouver, BC, September 18, 2015--(T-Net)--TELUS and Westbank Projects Corp. announced today that they are celebrating the grand opening of TELUS Garden's office tower in the heart of Downtown Vancouver this week.
Rich with innovative architectural, technological and environmental features, it is the first substantial office tower in Canada built to new Leadership in Energy and Environmental Design (LEED) Platinum standards.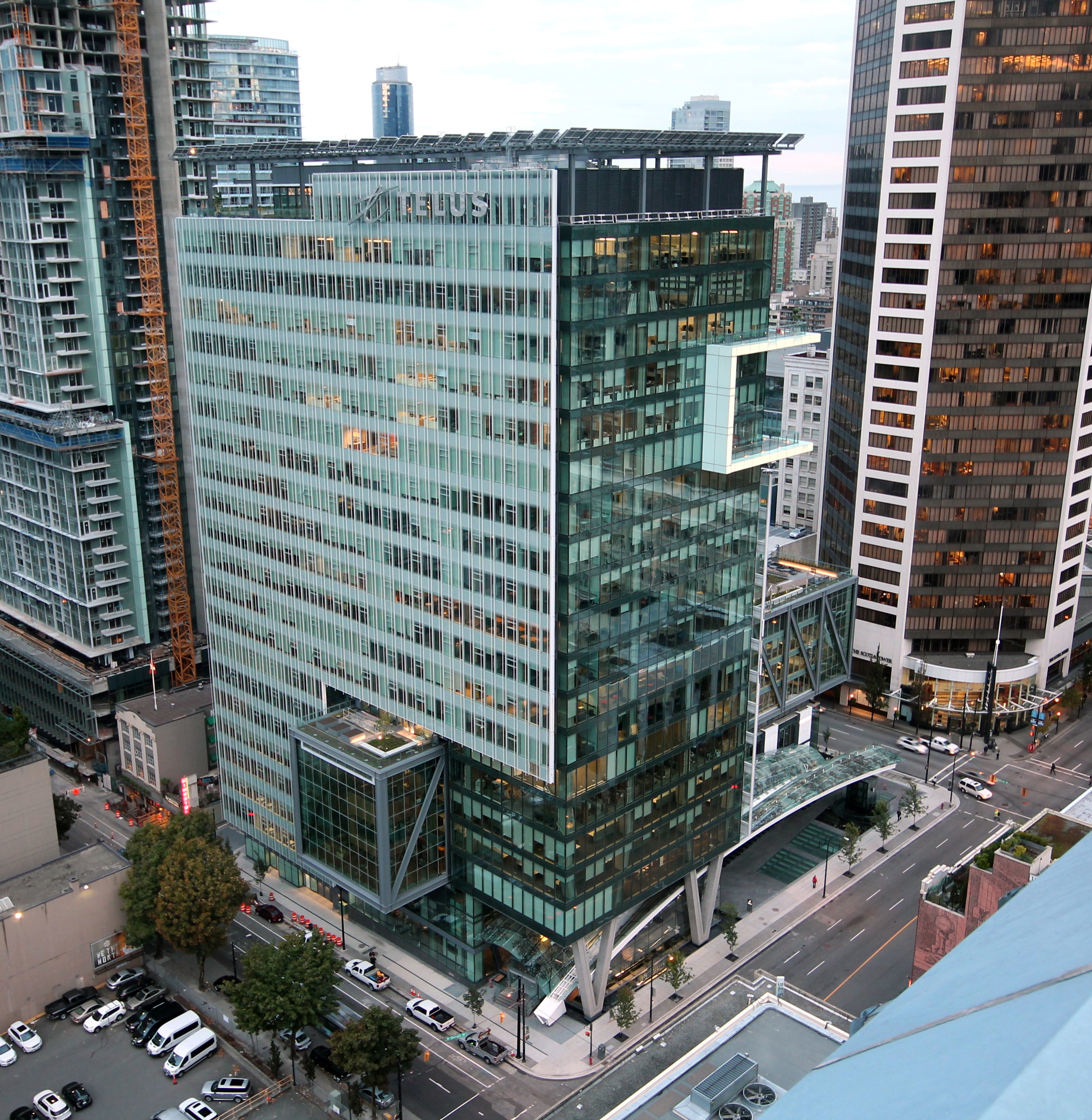 "Our new home that embellishes the heart of Vancouver's skyline, TELUS Garden is an architectural icon that exemplifies our brand, reflects our values and symbolizes a deep appreciation of our team for their dedication to connecting people and communities across Canada," said Darren Entwistle, TELUS President and CEO. "It is our sincere hope that this exceptional space provides inspiration for all who live, work and visit here. Indeed, TELUS Garden is Canada's most beautiful and ambitious LEED Platinum building, and one of the most environmentally-friendly developments in North America."
More than 1,000 TELUS team members as well as tenants including Amazon, Accenture, Capstone Mining and law firm Bull Housser & Tupper are now open for business in the office tower, part of the one million-square foot, $750 million development that has transformed an underutilized prime block of downtown real estate between Georgia, Robson, Seymour and Richards Streets into a showcase of architecture, design, environmental stewardship, and advanced technology.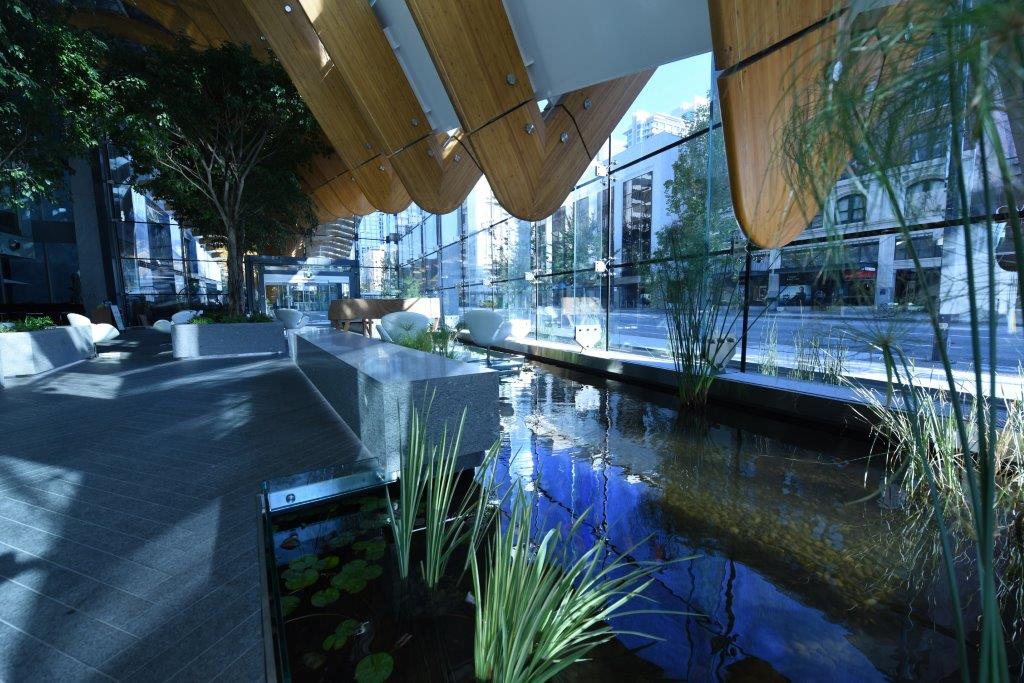 The development also includes a 53-storey residential building set to open next year, numerous storefronts, and the new flagship restaurant from Glowbal Group.
The unique development's features include:
--  A district energy system that will reduce demand from conventional
    energy sources by 80 per cent and reduce carbon dioxide emissions by
    more than one million kilograms a year. The system recovers energy from
    the neighbouring telecommunications building that would normally be lost
    and uses it to heat and cool air and water throughout the development;

--  Vancouver's largest solar panel array on the office tower's rooftop,
    reducing reliance on conventional commercial electricity;




--  Rainwater capture systems to irrigate gardens throughout the
    development;

--  10,000 square feet of outdoor meeting space and garden terraces on six
    levels planted with a community food garden that will be tended by TELUS
    team members, indigenous trees and thousands of plants species;

--  An iconic architectural canopy along Georgia Street that will provide
    coverage to the new public plaza that also features seating, music and a
    free Wi-Fi zone

--  Vancouver's first cantilevered office spaces above city sidewalks, which
    enhance the office building's design while maximizing the use of
    vertical space;

--  A media facade that will display community programing including visual
    arts created by local students and arts organizations;

--  A custom made Fazioli piano in the office building lobby for local
    musicians, beside an indoor koi fish pond;

--  Advanced building systems, which include a ventilation system providing
    fresh air to residents and workers, rather than the recycled air typical
    of towers;

--  High-efficiency motion sensor lighting to significantly reduce energy
    consumption;

--  Charging stations for electric vehicles and bike storage, with showers
    for team members;

--  450,000 square feet of new office space and 65,000 square feet of new
    retail space, including TELUS' flagship 2,300 square foot retail store.
"When we first imagined this project five years ago, our vision was to create a new headquarters for our team that would dramatically reduce TELUS' environmental footprint," said Andrea Goertz, TELUS Chief Sustainability Officer and Senior Vice-President. "It was also important to us that the development contribute to Vancouver's social fabric by recreating this central block as a vibrant, fun place full of culture and energy. TELUS Garden has achieved all of that and more."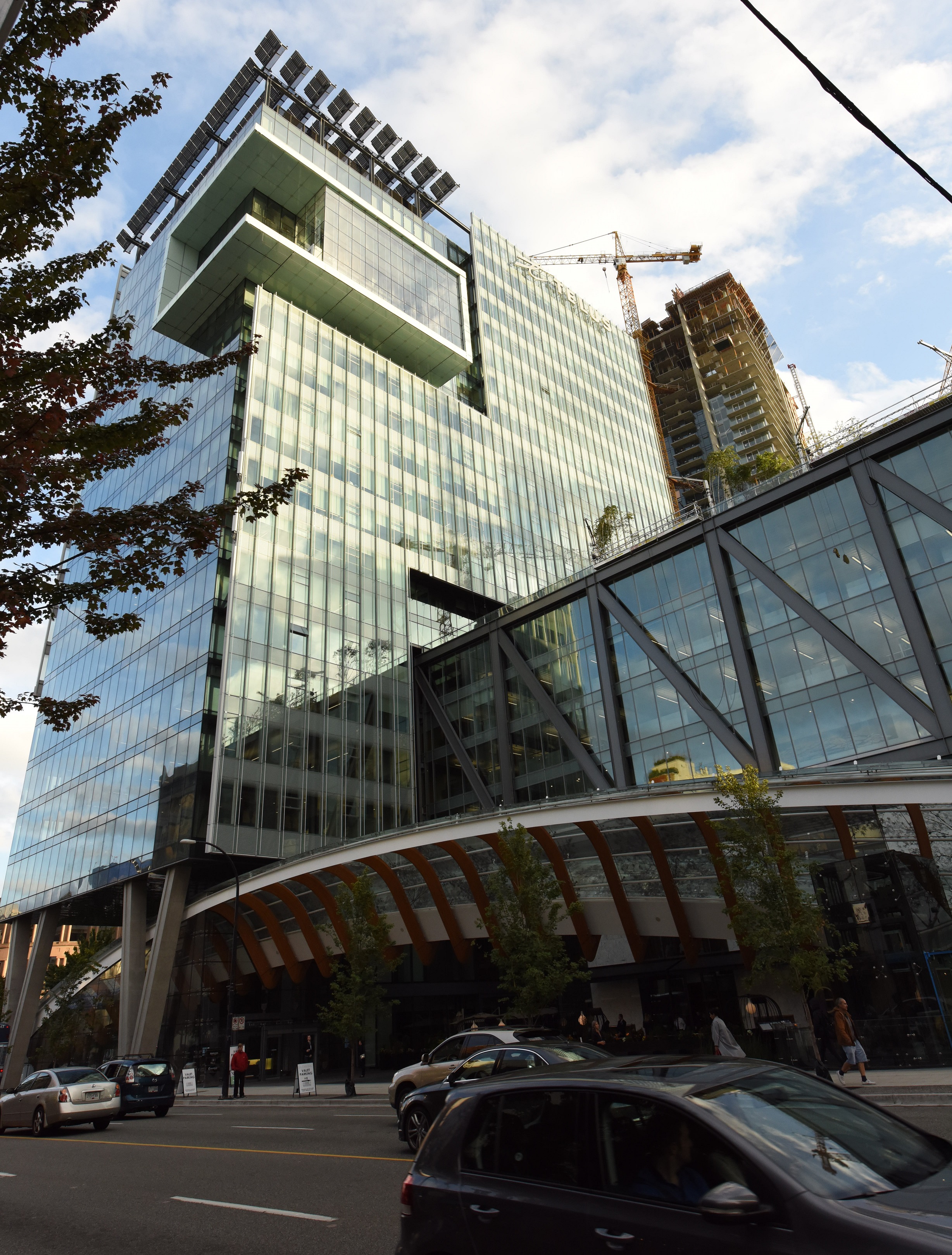 TELUS Garden's office tower was designed to support TELUS' Work Styles program, which encourages team members to work when and where they are most effective. Fully 70 per cent of TELUS team members work at home full or part-time, coming into the office when it meets their requirements. Work Styles saves real estate costs while simultaneously reducing employee commuting expenses, environmental impact, and traffic. To support the program, the office design combines private meeting rooms, mobile work stations, open seating areas, shared work stations, kitchens, large outdoor terraces and green spaces to encourage collaboration, teamwork and innovation.
"As a leading technology company here in B.C., it's fitting that the new TELUS Garden showcases new building and environmental techniques," said Minister of Technology, Innovation and Citizens' Services Amrik Virk. "This new building is a symbol of technology and ecology working together to create sustainable development."
"The TELUS Garden project is an exciting example of the rapid growth, innovation, and investment we're seeing in Vancouver's economy, and it sets a new standard for leadership in green building," said Mayor Gregor Robertson. "TELUS is Vancouver's largest private-sector employer, and it is an honour that TELUS would choose to invest in Vancouver for its national head office. Vancouver's forward-looking economy is realizing record-setting growth in the development of new office space, and TELUS Garden alone will be home to over 2,500 jobs in the heart of our vibrant downtown."
"We set out to build a workspace that would contribute something new to our city to help foster a culture of businesses and employees who care about the quality of their work environment, about superior access to transit, and world class design," said Ian Gillespie, President of Westbank. "We built TELUS Garden for all the companies who wanted their workplace to mirror their own values around sustainability and innovation. Standing in TELUS Garden today, which is nearly complete, it's rewarding to see that the original goals we set have been met. Now the next phase begins and its focus will be on adding the culture to what we have built. With the new residential component, retail animation and public art as well as the reinterpreted laneways, we hope that the area will only contribute more to City of Vancouver as it continues to grow for years to come."
By the time it is complete the TELUS Garden development will have created a million hours of construction employment. The development will contribute $8 to $10 million in property taxes to the City of Vancouver each year.
TELUS has long called British Columbia home. The development of the company's new LEED Platinum TELUS Garden reinforces TELUS' commitment to the City of Vancouver and supports the city's goal of becoming the greenest city in the world. TELUS' dedication to Vancouver extends well beyond investments in operations and infrastructure. Since 2000 the TELUS team in Vancouver has volunteered 350,000 hours with its hearts and hands and contributed $97 million to numerous charitable and community organizations.
"I am exceptionally proud of the TELUS team for unleashing the power of technology and the human spirit in action to help build healthy, dynamic and caring communities," Mr. Entwistle added.
Earlier this year, TELUS announced it will invest $4 billion building new infrastructure and facilities in British Columbia through 2018. When combined with operational expenses, this will bring TELUS' total investment in British Columbia over the next four years to more than $11.5 billion. By 2018, TELUS will have invested more than $47 billion in British Columbia since 2000 to further extend advanced telecommunications infrastructure and services, ensuring sustained innovation and fueling economic growth.
About TELUS
TELUS (TSX: T, NYSE: TU) is Canada's fastest-growing national telecommunications company, with $12.3 billion of annual revenue and 13.9 million customer connections, including 8.4 million wireless subscribers, 3.1 million wireline network access lines, 1.5 million high-speed Internet subscribers and 954,000 TELUS TV customers. TELUS provides a wide range of communications products and services, including wireless, data, Internet protocol (IP), voice, television, entertainment and video, and is Canada's largest healthcare IT provider.
In support of our philosophy to give where we live, TELUS, our team members and retirees have contributed more than $396 million to charitable and not-for-profit organizations and volunteered and more than 6 million hours of service to local communities since 2000. Created in 2005 by President and CEO Darren Entwistle, TELUS' 11 Canadian community boards and 4 International boards have led the Company's support of grassroots charities and will have contributed more than $54 million in support of over 4,800 local charitable projects by the end of 2015, enriching the lives of more than 2.1 million children and youth. TELUS was honoured to be named the most outstanding philanthropic corporation globally for 2010 by the Association of Fundraising Professionals, becoming the first Canadian company to receive this prestigious international recognition.
For more information about TELUS, please visit telus.com.
About Westbank
Westbank is dedicated to the creation of beautiful buildings with a focus on large mixed-use projects placing great importance on sustainability. The goal of the firm is a body of work that improves the cities it practices in while incorporating a high degree of artistry. Established in 1992 with over $25 billion of projects completed, Westbank is active across Canada and into the United States.
For more information, please contact:
Liz Sauvé
TELUS Media Relations
(604) 719-6715