Type of Company:

Type:

Company

Ownership:

Publicly Traded

Company Size:

20-49 Employees In BC (20-49 Total)

20-49 In BC (20-49 Total)

Year Founded:

2018

Sector:

Information and Communications Technologies

InfoTech

Region:

Lower Mainland / South Coast Lower Mainland

Tags:

Loop Insights, data
Fobi is the data intelligence company fusing technology and expertise to close the loop between data and customers through digital transformation.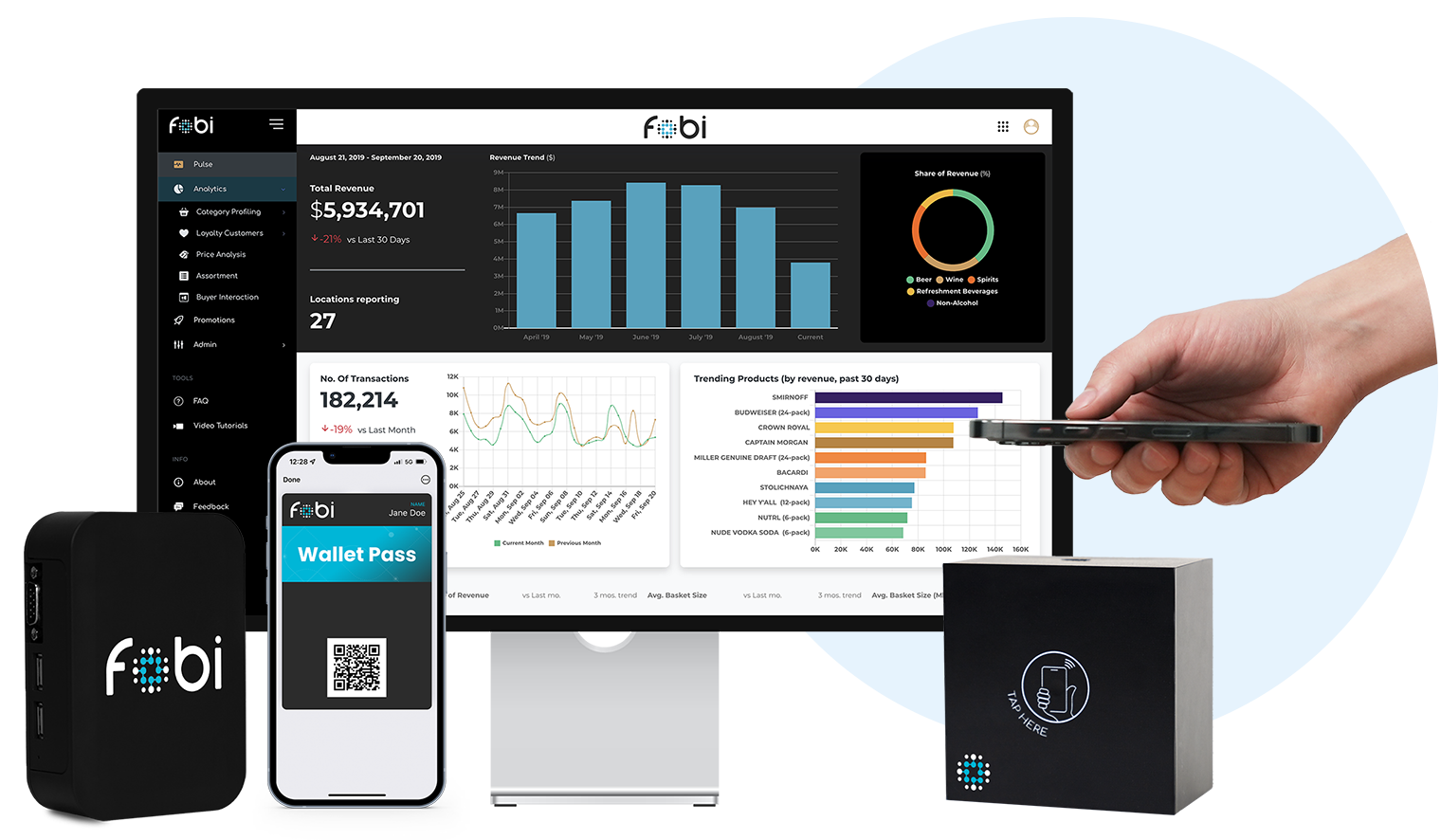 What We Do
From Fobi's unique IoT device to our insights portal, to our coupon platform and wallet passes, every solution integrates seamlessly into any company's existing infrastructure. Fobi enables data connectivity across online and on-premise platforms, giving clients everything they need to action data in real-time. We enable our clients to increase revenues, improve operational efficiencies, and drive personalized engagement through new channels. Fobi partners with some of the largest global companies and agencies in the retail & CPG, sports & entertainment, and hospitality & tourism industries.
| | | | |
| --- | --- | --- | --- |
| Date | Type | Amount | Investors |
| | | | |
| --- | --- | --- | --- |
| Date | Type | Amount | Investors |
May 17, 2022

Fobi AI Signs LOI To Acquire The IP And Assets Related To Basket, A Retail Price Comparison App And Shopper Intelligence Data Platform

Nov 30, 2021

Fobi Announces Deal to Provide Digital Vaccination and Testing Verification Solution for Sammy Hagar's Sold-Out Shows

Nov 25, 2021

Fobi Announces the Closing of its Acquisition of PassWallet Assets from Quicket GmbH

Oct 14, 2021

Fobi Signs Wallet Pass Deal with S4S, One of Iceland's Largest Retailers, To Digitize Traditional Plastic Gift Cards

Oct 12, 2021

Fobi Announces Acquisition of PassWallet, A Leading Android Wallet Pass Issuer With 6,000,000+ Downloads

Oct 1, 2021

Vancouver-based Fobi AI Announces Agreement To Acquire Qples Online Coupon And Advertising Platform For $3.2 Million (Plus Possible $1M Earnout)

Aug 26, 2021

FOBI Releases new Smart Scan App, Completes Final Stage of Passcreator Acquisition

Jun 28, 2021

Fobi Appoints Former NielsenIQ VP of Strategic Alliances North America, Richard Lee as SVP of Strategy & Corporate Development

May 21, 2021

Loop Insights Signs LOI To Become Official Technology Partner To $2.7 Billion All Net Resort and Arena Project In Las Vegas

Apr 27, 2021
1 - 10 of 19 results
Share This Company Profile
Disclaimer: Company Profiles in the Tech Directory on T-Net are created, edited and maintained primarily by employees within individual companies, and are subject to continual change without notice and possible errors and/or omissions. Information within the pages of this Tech Directory is of a general nature intended only for informational purposes, and such information should not be relied upon. T-Net does not warrant or guarantee the quality, accuracy or completeness of such information and expressly disclaims liability for any loss, inconvenience or damages (including special, indirect or consequential damages) caused as a result of any errors in, or omissions from, such information. If you see an error, please let us know. Copyright T-Net. All rights reserved.