**TICKETED EVENT WITH LIMITED SEATS, REGISTER AT LINK BELOW***
The hottest tech event of the year, Traction Conf Vancouver is coming on August 7 & 8 bringing Founders & C-Suite from multi-billion companies such as Shopify, Red Hat, Atlassian, Mailchimp, HubSpot, Zendesk, SurveyMonkey, Zapier, Duolingo, and 40 others to share the strategies they used to grow their companies.
Aug 7 features 4 deep-dive tracks to pick from - Product Summit, Growth Summit, Fundraising Summit, and CXO Summit.
Aug 8 features Founders & C-Suite explaining the strategies they used to grow their companies in rapid-fire sessions.
Plus you get the opportunity to network with 1,000+ founders, C-suite, investors, and press over two days.
Use promo code BCT40 for $350 off at http://tractionconf.io/register.
Traction Conf brings you actionable strategies and tactics for supercharging your growth, straight from founders and leaders of some of the fastest growing companies.
Plus you get to network with and get on a first-name basis with Fortune 500 leaders, high-growth startup founders, leading investors, and major media.
You will learn how to: - Build a brand and product that everyone love & talks about; - Create a culture and team for high growth; - Pick the right marketing & distribution channels; - Convert visitors to recurring users & paying customers; - Drive new revenue through resellers & partnerships; - Leverage customer insights to cross-sell & up-sell additional services; - Use empathy to build long lasting customer relationships; - Prepare to scale, exit or IPO in the most effective manner; - And a lot more!
While most successful companies seem to be overnight successes and quickly become household names across the world, the truth is that there's a lot of blood, sweat, and tears behind the scenes before they get there. Traction is the perfect chance to meet and learn from the fastest growing companies, who will share their secrets to scaling from 0 to $100M+ in revenue, acquisition, and IPO.
Some of our 2019 speakers will include: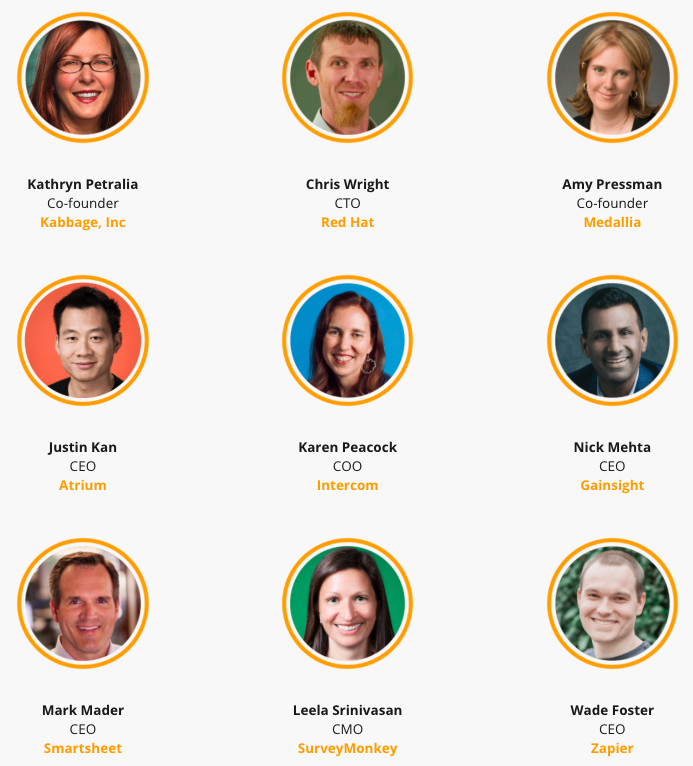 - Amy Pressman, Co-founder, Medallia
- Kathryn Petralia, CEO, Kabbage
- Karen Peacock, COO, Intercom
- Leela Srinivasan, CMO, SurveyMonkey
- Mada Seghete, Co-founder, Branch
- Mark Mader, CEO, Smartsheet
- Nick Mehta, CEO, Gainsight
- Sid Sijbrandij, CEO, GitLab
- Wade Foster, CEO, Zapier
- Pratima Arora, Head of Product - Confluence, Atlassian
- Jon Herstein, Chief Customer Officer, Box
- David Grow, President & COO, Lucidchart
- Oji Udezue, VP Product & Design, Calendly
- Laura Nestler, Global Head of Community, Duolingo
- John Francis, Head of Design, Affirm
- John Foreman, SVP of Product, Mailchimp
- Sarah Guo, Partner, Greylock Partners
- Alda Leu Dennis, Managing Partner, Initialized Capital
We'll be announcing more speakers in the coming weeks.
Limited early bird tickets are already on sale for just $476 + GST.
Register now and save $350: http://tractionconf.io/register