Event Title:

Title:

BC BIO Dinner & Reception presented by FARRIS

Event Date:

Date:

June 3, 2019

Event Time:

Time:

5:00 PM to 8:00 PM

Event Organizer:

Organizer:

Event Category:

Category:

Event Website:

Website:
LifeSciences BC is pleased to hold its annual BC BIO Dinner, presented by FARRIS, in Philadelphia on Monday, June 3, 2019.
Presenting sponsor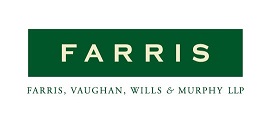 Over 50 senior life sciences executives from British Columbia, as well as international delegates from around the world, will come together at this networking reception and dinner event in Philadelphia as part of the 2019 BIO International Convention.
The BIO International Convention is the largest global event for the biotechnology industry and attracts the biggest names in biotech, offers key networking and partnering opportunities and provides insights and inspiration on the major trends affecting the industry. The event features keynotes and sessions from key policymakers, scientists, CEOs and celebrities. Past speakers include Presidents George W. Bush and Bill Clinton, Former Prime Minister Tony Blair, Michael J. Fox, Sir Elton John, Her Majesty Queen Noor of Jordan and General Colin Powell. The Convention also features the BIO Business Forum (One-on-One Partnering), hundreds of sessions covering biotech trends, policy issues and technological innovations, and the world's largest biotechnology exhibition - the BIO Exhibition.
Event Details
Date: Monday, June 3, 2019
Time:
5:00 - 6:00 PM BC BIO Networking Reception
6:00 - 8:00 PM BC BIO Dinner, presented by FARRIS
Registration:
The BC BIO Reception and Dinner is an invitation only event.
Reception Sponsor
---
For more information please contact:
Ryan Butt
Senior Manager, Events & Outreach
Phone: 604 669-9909 ext. 104
Email: rbutt@lifesciencesbc.ca
Pennsylvania Convention Center

Type of Company:

Type:

Industry Association

Company Size:

6 Employees In BC (6 Total)

6 In BC (6 Total)

Year Founded:

1995

Region:

All Regions

Key Links:

Tags:

Life Sciences, Biotechnology, Biotech, Industry Association, Science

Profile Views:

20,946 Company Profile Views
LifeSciences British Columbia is an industry-funded association that supports and represents the life sciences community of British Columbia through leadership, facilitation of investment and partnering, advocacy, and promotion of our world-class science and industry.
All life sciences sectors, from biopharmaceuticals and medical devices, to bioproducts and bioenergy, forest, agricultural and marine biotech, are integrated into our organization and all that we do, ensuring that no life sciences sector is working in isolation — and that all sectors come together in a comprehensive, complementary and coordinated fashion.

Throughout the year, LifeSciences BC undertakes numerous programs and projects in support of these sectors. These include public policy initiatives, facilitating linkages between global industry and our local organizations, raising the profile of our industry internationally and thus facilitating investment and global partnering opportunities, and helping nurture economic development in British Columbia through the life sciences industry.


What does LifeSciences BC do?
Here are just a few of the activities LifeSciences BC carries out under our four strategic areas:
1. Active Facilitation of Investment and Partnering
LifeSciences BC connects our Members and Sponsors to global investors and strategic partners through several avenues including:
LifeSciences BC's on-line directory of companies, research institutions and technologies
Regular targeted strategic partnering events with top-tier multinationals
Co-producing of the annual BioPartnering North America, the largest stand-alone biopharma partnering event on the continent, and an event that regularly attracts delegates from over 25 countries
Our Life Sciences Ambassador Programme, whereby Members' and Sponsors' international business development objectives are supported by a seasoned LifeSciences BC executive on the ground in Europe. This representative is also connected to a global network of fellow Ambassadors in order to build the international partnerships companies are looking for.
Hosting of additional international conferences in British Columbia such as BIO's 2008 Pacific Rim Summit on Industrial Biotechnology and Bioenergy
Regular hosting of incoming business and research delegations from around the world, and coordination of outgoing BC missions to leading international clusters
2. Advocacy and Public Policy Development

LifeSciences BC is regularly consulted by local, national and international bodies on a variety of issues related to science and technology, research and innovation. Through these consultations, we ensure that the BC life sciences industry has a voice at every table, and that voice is one of credible insight into not only the development of our local life sciences industry, but how science and technology affects the lives of everyone globally.

LifeSciences BC also proactively ensures that life sciences is a key priority on the agendas of our various levels of government, and positions the industry as a valuable partner in bettering our city, province and country. By working directly with government on a vast array of policy recommendations, we aim to create an environment which enables the successful execution of Members' and Sponsors' business development goals.

Following are just a few examples of our advocacy efforts and successes:
Development of our position paper, Building World-Class Biotech Businesses in BC — a blueprint for both government and industry to reach our full potential as a leading life sciences cluster
Formal submissions to key consultations such as the BC Conversation on Health and annual budget planning cycles
Leading role on the Pharmacare Taskforce, a collaboration between academia, industry and government whose twelve recommendations on BC's Pharmacare program were accepted in their entirety by the Provincial Government
Collaboration with the Provincial Government to gain approval for enhanced federal Intellectual Property and Data Protection
Introduction of changes to the provincial International Financial Activities Act to provide companies deriving income from life sciences patents tax savings of up to $8 million/year
3. Marketing and Promotion of our World-Class Science and Life Sciences Industry

LifeSciences BC actively works to raise the local, national and international profile of the companies and research institutions that make up British Columbia's life sciences industry. These efforts have led to major international exposure for Members and Sponsors, and subsequent investments and partnering deals. Below are some of the promotion vehicles we continually manage and utilize:
A coordinated strategic British Columbia presence at major international life science conferences such as BIO, BioPartnering Europe, The World Congress on Industrial Biotechnology, BioJapan and AusBiotech to name just a few
Production of the Annual LifeSciences BC Awards to recognize exceptional individuals and companies for their contributions to the industry, and to highlight to the local community, the importance of the life sciences sectors
A robust website that receives over 15,000 hits a month, and that acts as a central portal into all things life sciences in BC, including industry news and events, statistics and information, business development opportunities, resources, employment opportunities, and much more
Biolinks — LifeSciences BC's monthly electronic life sciences newsletter distributed globally to over 5,000 key contacts
4. Development and Support of our Human Capital Through Member Mentoring, Education and Networking

Through LifeSciences BC, Members and Sponsors are provided the opportunity to get informed on the latest issues affecting the industry, get connected to their peers, and get personal advice from industry leaders and experts. Following are just a few ways in which we enable this:
LifeSciences BC's BC Excels Mentorship Program for executives from emerging companies seeking to enhance their own professional development, and their company's product plan, commercialization and intellectual property protection strategies
Quarterly Breakfast Speaking Series featuring national and international industry leaders and local companies
Medical Device and BioProducts and BioEnergy Seminar Series to address topics of specific relevance to members from these sectors
Monthly Industry Roundtables on topics of relevance to all member sectors
Our Annual Salmon Barbeque — a networking event that every year brings together over 200 members of the broad life sciences community
Delivery of Biotech 101 — Biotechnology and Beyond: Introduction to the Life Sciences Industry two-day course for non-scientists
Delivery of the sanofi-aventis BioTalent Challenge — a science fair competition for high school students where they are mentored by a scientist from our community
| | | | |
| --- | --- | --- | --- |
| Date | Type | Amount | Investors |
| | | | |
| --- | --- | --- | --- |
| Date | Type | Amount | Investors |