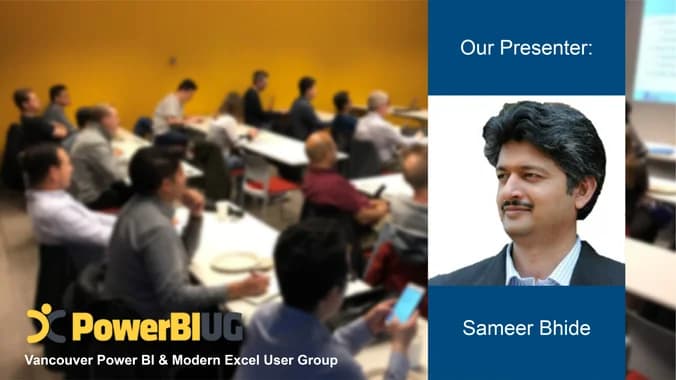 **Please note that we are starting much earlier than usual, due to the time difference with India.
SESSION TRACK:
Excel & Power BI
SESSION OUTLINE:
Sameer (Sam) Bhide will demonstrate a free tool he's built that helps us consolidate any kind of data before loading it to your data model. (Well, almost any kind...) Using Power Query queries - and a little bit of VBA - the Universal Data Consolidator can quickly bring together data from Excel files (.xlsx,.xlsm,.xlsb), delimited files (.csv, .txt), and PDF files (machine generated). The tool handles scenarios from a single file with multiple worksheets or pages, to multiple files with multiple worksheets or pages where certain worksheets/page need to be included or excluded.
The UDC also handles situations where column names are inconsistent (say if they're changed, moved, added, or removed), or there is a row or column offset as to where the data starts (whether the offset is uniform or not). You can even choose to exclude certain columns from your result.
The majority of the demo will be using the Excel version of the UDC tool, but there is also a Power BI version that Sam will show as well, explaining the slight differences in functionality.
SPEAKER PROFILE:
Sameer Bhide (Sam to his friends) is an Electrical Engineer by qualification. Teaching Excel started as a hobby - something he was doing over the weekends once in a while. After 11 years in the corporate world, what was earlier a hobby became a full time profession in 2007. Since then, he's delivered more than 10,000 hours of training till date to individuals and corporate groups. In the last 5 years, most of his trainings have been on Power BI (Power Query, Power Pivot and Data Visualization).
Over the last 15 + years, Sam has developed and implemented numerous projects in Excel, Access, VBA, Power Query, Power Pivot, and Power BI, many of them working successfully in large corporations.
Connect with and follow Sam at:
TENTATIVE AGENDA (subject to change, all times listed are in Pacific Time):
8:45am Teams Meeting opens to attendees to begin joining
9:00am-9:05am Welcome and meeting overview
9:05am-10:05am Feature Presentation
10:05am-10:10am Meeting Wrap-up
REGISTRATION:
This meet-up will be hosted on Microsoft Teams, and will be recorded to share with others who were not able to attend live. You must RSVP for the event in order to access the Teams Meeting link.
JOINING THE EVENT:
Attendees can join the Teams Meeting starting at 8:45am PDT on the day of the event. The link will be visible only if you RSVP beforehand.
Once the event gets underway at 9:00am PDT, we ask that attendees make sure they are on MUTE, so background noise and distractions are minimized.
During the presentation, attendees can type questions and comments into the chat area, which will be monitored by the event hosts. There will be time for Q&A at the end, where attendees can un-mute their mic and even share their video to ask questions.
**NOTE: As mentioned above, this event will be recorded and shared online, so attendee information may be visible in the recording.