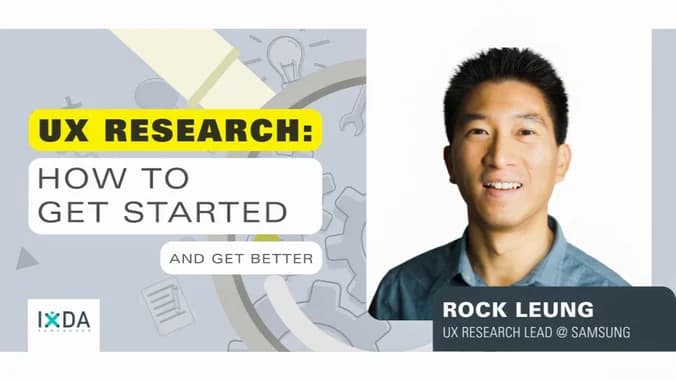 Does UX Research seem like an interesting but daunting activity?
Are you interested in trying to do some UX Research but aren't sure where to start or if you have the skills?
Have you done a bit of research and want guidance on how to improve your skills?
Do you think that only UX Researchers can do UX research?
In this Fireside chat geared towards students and new UX practitioners, Rock will share why he believes that anyone can start involved in UX research. Drawing on a cooking-skills analogy (and perhaps a reference or two to the Pixar film Ratatouille), he'll also discuss how novices can improve and know when research experts are needed. Attendees will take away practical ideas to build those research muscles, to grow professionally whether as a UX designer or researcher.
Our Meetup RSVP is temporarily disabled due to a technical issue Please sign up over here

https://www.eventbrite.com/e/ux-research-how-to-get-started-and-get-better-tickets-369575559447
***
Our Awesome Guest Speaker:
Rock Leung (UX Research Lead @ Samsung)
Rock Leung (LinkedIn) has been the UX Research lead for the B2B product team at Samsung Electronics Canada for over 6 years. He received a Ph.D. at the University of British Columbia, focusing on Human-Computer Interaction research. He also has a Computer Engineering undergraduate degree from the University of Waterloo, and often leverages this training to iteratively develop repeatable and impactful research processes.
Rock especially enjoys mentoring students and helping others develop professionally in the UX Research field. He has supervised to date 10+ UX Research interns with many different backgrounds and helped them learn to do research to influence both product design and strategy. In 2016, he also co-founded and helped organize the Radical Research Summit, an annual UX research conference to connect and educate local UX researchers, designers, product managers, and students.
***
Who is this for?
Students and new UX practitioners, and everyone else interested
***
Agenda:
5:00-5:10pm IxDA Vancouver Intro
5:15-6:00pm Fireside Chat with Rock Leung (Samsung)
6:00-6:30pm Q&A
***
How much is the ticket?
Absolutely Free