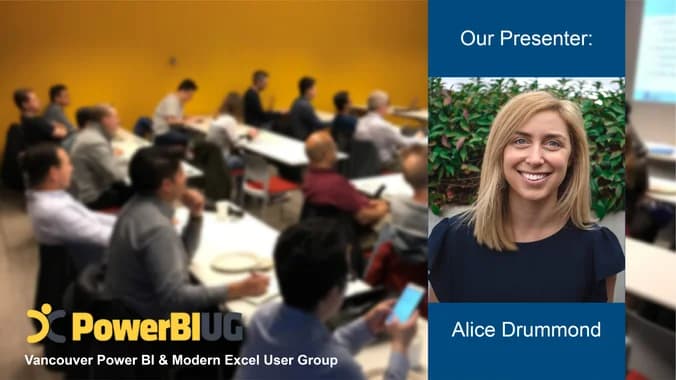 SESSION TRACK:
Power BI
SESSION OUTLINE:
First, Joseph Yeates (who is also our guest host for the evening) will show us some of the newest features and updates to Power BI. Next, Alice Drummond will be presenting on storytelling with data in Power BI.
The environmental industry is literally drowning in data! Join Alice for an interactive, demo heavy session packed full of Power BI design tips and tricks. She showcases Power BI storytelling techniques using real-world case studies from across the environmental industry, including Power BI studies on the Great Barrier Reef, Urban Water Strategies and the COVID-19 Water Security Risk Index tool. Come along for a deep-dive into loads of different visualisation tips and tricks to create that 'WOW' factor in your reports like intuitive navigation using the new Bookmark Navigator, interactive maps (Icon Map of course!), infographics and animations, using iconography, images and videos to create an emotional connection, and more! Alice will also share lessons learnt from creating Power BI reports for public audiences, and different accessibility considerations to help you design Power BI reports for all audiences.
SPEAKER PROFILE:
Alice Drummond is Co-Founder of DiscoverEI, and a Microsoft Data Platform MVP, and her passion is combining Power BI and graphic design to bring data to life! Drawing on her background in environmental engineering, Alice works collaboratively with government organisations to turn mountains of data into practical, useful, decision-guiding insights, and gets a real buzz from training the next generation of data champions, and is a regular speaker at Power Platform community events and conferences and co-hosts the Power BI for Enviro's monthly meetup. Alice understands the power of combining science and art to tell data stories, and embeds customised animations and infographics in Power BI reports to help bridge the communication gap between scientists and decision makers.
Follow Alice online at:
TENTATIVE AGENDA (subject to change, all times listed are in Pacific Time):
5:45pm Teams Meeting opens to attendees to begin joining
6:00pm-6:05pm Welcome and meeting overview
6:05pm-6:20 pm What's New in Power BI
6:20pm-7:20pm Feature Presentation
7:20pm-7:25pm Meeting Wrap-up
REGISTRATION:
This meet-up will be hosted on Microsoft Teams, and will be recorded to share with others who were not able to attend live. You must RSVP for the event in order to access the Teams Meeting link.
JOINING THE EVENT:
Attendees can join the Teams Meeting starting at 5:45pm on the night of the event. The link will be visible only if you RSVP beforehand.
Once the event gets underway at 6:00pm, we ask that attendees make sure they are on MUTE, so background noise and distractions are minimized.
During the presentation, attendees can type questions and comments into the chat area, which will be monitored by the event hosts. There will be time for Q&A at the end, where attendees can un-mute their mic and even share their video to ask questions.
**NOTE: As mentioned above, this event will be recorded and shared online, so attendee information may be visible in the recording.