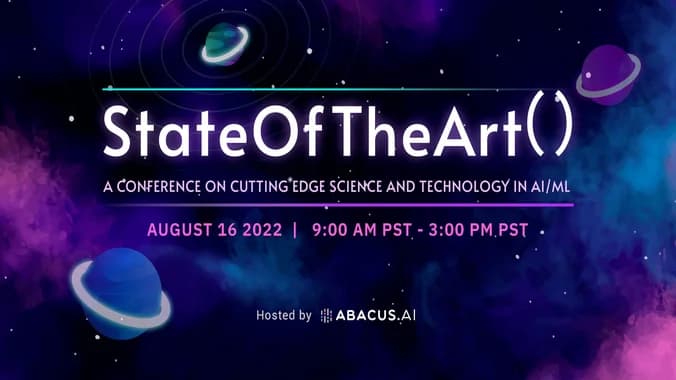 Register on the event website to receive join link: https://www.aicamp.ai/event/eventdetails/W2022081607
Description:
With the popularity of GPT-3 and DALL-E we will discuss the future of AI, including large transformer and language models with Pilar Manchon from Google, who is a prominent voice within the AI community with decades of experience in other top tech companies. Additionally, we will also feature an exciting fireside chat with Michael Capellas, ex-CEO of Comcast and board member at Cisco & Flex. Discussion will be centered around how AI is transforming manufacturing.
We are also lucky to be joined by multiple leaders in the industry adopting end to end MLOps systems such as Google, American Eagle Outfitters, Cisco, Sephora & more. Additionally, for the first time ever in StateoftheArt() we're bringing in a new perspective; our "From the Media" panel will examine how journalists view all the hype and development surrounding this industry.
Featured Speakers:
Pilar Manchon, Senior Director of Research at Google AI
Michael Capellas, Board Member, Cisco & Flex, ex-CEO of Comcast
Duncan Mcelfresh, Health Services R&D Fellow at Stanford
Kevin McLaughlin, Reporter at The Information
BK Vasan, VP Data Technology & Analytics & CDO at AEO
Gus Shashin, CIO at Flex
Colin White, Head of Research at Abacus.AI
More AI/ML/Data tech events up coming (free join from anywhere):
Aug 3, Build Your Open Data Lakehouse on Apache Iceberg (Online)
Aug 4, A Visual Introduction to Apache Kafka (Online)
Aug 22, Conference: Ray ML Summit (San Francisco)
Aug 23, MLOps with Model Deployment, Management and Observability (Online)
Sep 7, Data Engineering Night in London (in-person)