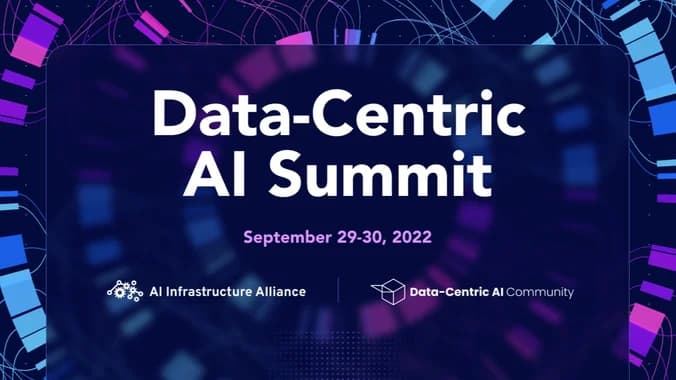 Register on the event website to receive join link: https://www.aicamp.ai/event/eventdetails/W2022092908
Description:
We will host the first Data-Centric AI Summit with a deep focus on practical and educational talks that teach you something awesome. It's all online and totally free.
What is Data-Centric AI? It focuses on updating the data to solve a problem versus changing the algorithm or code. That's a complete reversal of how we've thought about AI up until now. Over the last decade, researchers focused on code and algorithms first. They'd import the data once and leave it fixed. Data-Centric AI flips that on its head and says fix the data itself. Clean the noise. Augment the dataset. Re-label, so it's more consistent.
Come to learn how to put data-centric AI into practice in the real world. Hear from some of the top practitioners in the world today along with some of the most advanced platforms. Explore talks from the leaders of massive data sets used to train some of the largest foundational models on the planet.
Featured Speakers:
Peter Mattson, ML Lead @ Google
Fabiana Clemente, CDO @ YData
Daniel Jeffries, Director @ AI Infrastructure Alliance
Bernease Herman, Sr. Data Scientist @ WhyLabs
Victor Sonck, Evangelist @ ClearML
Andrea Cropp, Data Scientist @ DataRobot
Nicholas Schenone, MLOps Engineer @ Iguazio
Christoph Schuhmann, Founder @ LAION
and 30+ more
More AI/ML/Data tech events up coming:
Sep 7, Data Engineering Night (London)
Sep 13, Chief Data and Analytics Officer, Government 2022 (Washington DC)
Sep 19, Chief Data and Analytics Officers, APEX West (Phoenix)
Sep 20, DoorDash: Building Scalable Real Time Event Processing with Kafka and Flink (Online)
Sep 27, Nvidia: Building End-to-End Recommender Systems (Online)
Sep 28, Semantic Layer Summit 2022 (Online)
Sep 29, Data-Centric AI Summit 2022 (Online)