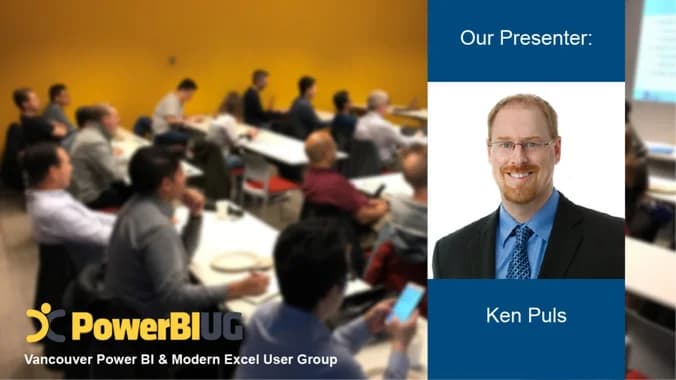 SESSION TRACK:
Excel
SESSION OUTLINE:
If you've been following the development of Ken Puls' Monkey Tools add-in (available at https://monkeytools.ca), you'll know that it has a lot of functionality for Excel BI modelers. In this session, Ken will take you on a trip through many of the features and explore how Monkey Tools can help you build better Excel BI models faster, as well as audit models that you receive from others, whether they come from Excel or Power BI.
The broad set of features included in Monkey Tools will help you deal with things like:
Diagnosing the issues behind the irritating "Relationships May Be Needed" error when building a Power Pivot-based PivotTables
Viewing queries by load destination and changing multiple query load destinations at one time
Injecting dynamic parameter tables and dynamic calendars into your data model with only a few clicks
Tracing query and DAX dependency trees
Indenting both M and DAX queries
Timing your query refresh speeds
Documenting your Excel or Power BI based models
Exporting Data Models to CSV files
Importing Power BI models into Excel
And more!
While we won't be able to show all the functionality in one single meetup, you'll get a good understanding of how this tool can help make your data modeling life easier!
SPEAKER PROFILE:
Ken Puls, FCPA, FCMA, is the president of Excelguru Consulting Inc, a company dedicated to helping users get the most from their data. His passion lies in exploring tools to turn data into information, and teaching others how to benefit from them. Ken is a blogger, author and trainer with over 20 years of corporate accounting and IT experience. He is one of the world's leading experts in Microsoft Excel, Power Query and Power BI, and provides live and online training to clients around the world, including on the Skillwave Training learning platform that he co-founded in 2020. In recognition of his contributions, Ken has held the prestigious Microsoft MVP distinction since 2006 in both the Excel and Data Platform categories.
Connect with and follow Ken online at:
TENTATIVE AGENDA (subject to change, all times listed are in Pacific Time):
5:45pm Teams Meeting opens to attendees to begin joining
6:00pm-6:05pm Welcome and meeting overview
6:05pm-7:05 Feature Presentation
7:05pm-7:10pm Meeting Wrap-up
REGISTRATION:
This meet-up will be hosted on Microsoft Teams, and will be recorded to share with others who were not able to attend live. You must RSVP for the event in order to access the Teams Meeting link.
JOINING THE EVENT:
Attendees can join the Teams Meeting starting at 5:45pm on the night of the event. The link will be visible only if you RSVP beforehand.
Once the event gets underway at 6:00pm, we ask that attendees make sure they are on MUTE, so background noise and distractions are minimized.
During the presentation, attendees can type questions and comments into the chat area, which will be monitored by the event hosts. There will be time for Q&A at the end, where attendees can un-mute their mic and even share their video to ask questions.
**NOTE: As mentioned above, this event will be recorded and shared online, so attendee information may be visible in the recording.