Hyper Hippo Games Launches Hit Title AdVenture Capitalist on Sony PlayStation®4 (the first "idle" game to be published)
Kelowna, BC, September 2, 2016--(T-Net)--Hyper Hippo Games, a leading independent video game studio in Canada, announced that it has launched their hit title AdVenture Capitalist on Sony PlayStation®4; the first "idle" game to be published on the platform.
The game is now available in North and South America, and is rated E for everyone.
AdVenture Capitalist has found success across multiple platforms, including Mobile, Facebook and Steam with over 20 million players globally registering over a billion gameplays. With multiple storefront features, high chart placements, and articles within the Wall Street Journal and Time Magazine, the franchise is seeking AdVenture on a new platform.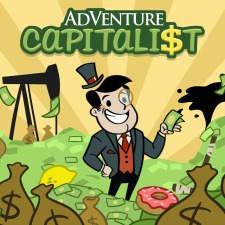 Useful Links:
"We are thrilled to be releasing our hit idle/clicker game on the most prestigious gaming platform in the world." says AdVenture Capitalist Producer, Tristan Rattink. "We are excited to be the first idle game ever released on the Playstation 4 platform. AdVenture Capitalist will fill that void when players are short on time, waiting for their next online match, or need a break from the larger, more immersive titles on the platfo rm."
AdVenture Capitalist is a free to play idle game; an incredibly addictive game that "plays itself" with the guidance of the player. Players start off by tapping/clicking on their Lemonade Stand investment to generate profits until they have enough cash to hire a manager to run it for them. From there, players can purchase different investments, expand to different planets, and rely on Angel Investors and Upgrades to help push their profits through the roof!
"Hyper Hippo Games loves to BE BOLD within the gaming world, and as one of the first idle titles on Steam, we were aiming to disrupt the market with our initial release." says Lance Priebe, CEO of Hyper Hippo. "AdVenture Capitalist was debuted within Steam as 'The Game You Play In-between Games', but seemed to recruit a crowd of very dedicated players. We're hoping to achieve the same results within the Playstation platform and continue further platform domination....I mean expansion with AdVenture Capitalist!"
About Hyper Hippo
Hyper Hippo creates virtual worlds and video games that are played by millions of fans around the world. Founded in 2012 by the creator of Club Penguin, Hyper Hippo builds games that are available on web, mobile, Steam and Sony Playstation. Based in beautiful British Columbia, Hyper Hippo brings together an exceptional team that is constantly innovating and exploring new ideas in game design. Other major titles include RuneScape Idle Adventures - an epic, story-driven adventure and hello sanrio, a partnership with merchandising giants Sanrio, to bring awareness to the characters within the Sanrio world through a suite of community and game apps. For more information please visit www.hyperhippo.ca
For more information contact:
Tristan Rattink, Producer of AdVenture Capitalist
Email: tristan@hyperhippo.ca
Website: www.hyperhippo.ca
To learn more about AdVenture Capitalist, hyperhippo.ca/adventurecapitalist