Victoria Advanced Technology Council Announces Winners of 17th Annual VIATEC Awards - Vecima Networks Wins Top Award
17th Annual VIATEC Awards (celebrated last Friday night at the Royal Theatre) show Greater Victoria's #1 industry not slowing down any.
Attendance was over 1000 guests this year, making it one of the largest tech celebrations of its kind in the nation.
Victoria, BC, June 18, 2018--(T-Net)--Victoria Advanced Technology Council (VIATeC) announced Friday the winners of its 17th Annual VIATEC Awards.

The VIATEC Awards celebrate the innovation and excellence of individuals and technology companies in the Victoria region, one of the fastest growing technology regions in British Columbia.
A record breaking total of 54 finalists were honoured, with 16 recipients receiving new robot trophies (designed by Russell Papp), at the elaborate show.
"It is our honour to produce a show that brings together and entertains our tech community and we relish the opportunity to highlight and celebrate some of our top performing companies and executives," said Dan Gunn, CEO of VIATEC.
"Each year gets more elaborate and we cannot say enough about our local arts community and what they bring to make this event the unique and anticipated festivity it is has become."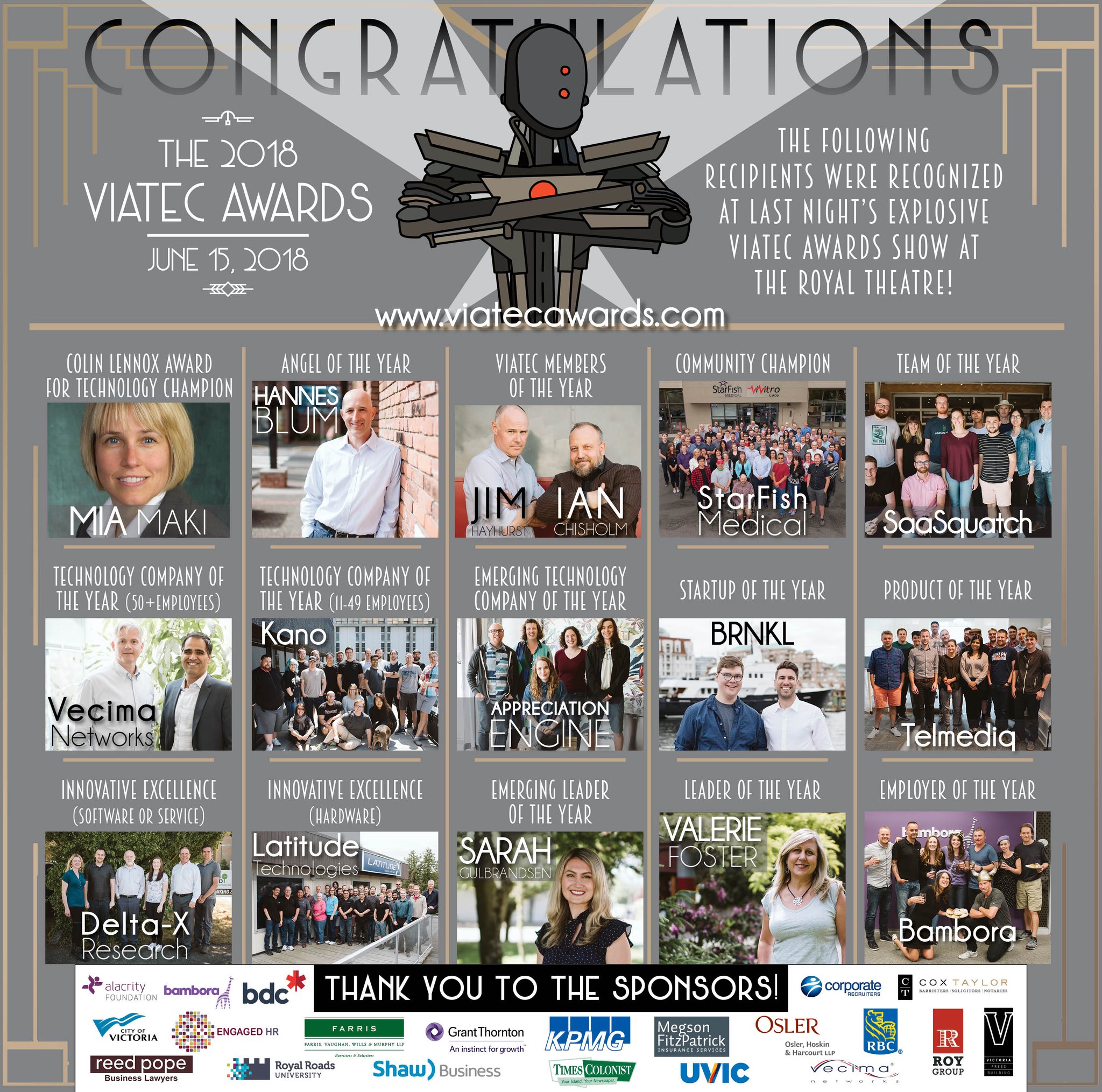 2018 VIATEC AWARD WINNERS:
Technology Company of the Year
(11-49 employees)
Kano


NAMED RECIPIENTS (No finalists):


Colin Lennox Award for Technology Champion
Mia Maki



Angel of the Year
Hannes Blum



VIATEC Member of the Year
Jim Hayhurst & Ian Chisholm



Community Champion
StarFish Medical
Contact:
Dan Gunn
CEO, VIATEC
250-882-2820
dgunn@viatec.ca
About VIATEC
VIATEC (Victoria Innovation, Advanced Technology and Entrepreneurship Council), started in 1989. Our mission is to serve as the one-stop hub that connects people, knowledge and resources to grow and promote the Greater Victoria technology sector (Victoria's biggest industry). We work closely with our members to offer a variety of events, programs and services. In addition, VIATEC serves as the front door of the local tech sector and as its spokesperson. To better support local innovators, we acquired our own building (Fort Tectoria) where we offer flexible and affordable office space to emerging local companies along with a gathering/event space for local entrepreneurs. www.viatec.ca, www.forttectoria.ca