Precision AgTech Company Semios Appoints Sumer Johal as New Chief Executive Officer
Vancouver, BC, November 1, 2023--(T-Net)--Semios, a leader in precision agriculture and technology solutions, has announced the appointment of Mr. Sumer Johal as its new Chief Executive Officer.
Mr. Johal brings over two decades of leadership experience in technology, with a deep commitment to sustainability and agriculture, and is a leading voice in driving digital transformation in agricultural ecosystems at a global scale.
Mr. Johal's technical expertise and deep understanding of agricultural and environmental challenges uniquely positions him to lead Semios in delivering the next generation of holistic crop management tools for ag professionals.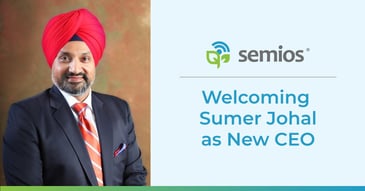 "I'm incredibly excited about leading Semios in its next stage of growth," said Mr. Johal. "By leveraging digital technologies like AI and open-source, Semios has the potential to create an incredibly positive impact for our food ecosystems globally. I'm looking forward to working with the Semios team to realize this potential and to continue to earn the trust of our customers, partners, and shareholders as the global market leader in agtech."
Mick Sawka, Chairman of the Semios Board, commented, "We are thrilled that Sumer is bringing his vision and experience to the table at Semios. These two attributes are critical components in the equation of a CEO; however, it is Sumer's passion for sustainable agriculture for all that truly positions him as the ideal leader for Semios' next ambitious chapter".
Mr. Johal holds a BS and MS in Computer Science and Electrical Engineering from the Massachusetts Institute of Technology (MIT).
Previously, Mr. Johal served as the Founder and CEO of Agralogics, leveraging Big Data to tackle complex challenges in the food ecosystem. Currently, Mr. Johal serves as the Executive Director of AgStack at The Linux Foundation, leading the development of the world's first open-source digital infrastructure for food and agriculture. Growing up in a farming family in Punjab, India, his roots in agriculture have always empowered his commitment to the industry.
With the appointment of Mr. Johal as CEO, Semios expects to welcome a period of meaningful innovation and growth in all areas. By achieving its long-term strategic objectives, the company will be able to deliver even more valuable, integrated, and data-driven insights to its customers around the world and fulfill its purpose to help nature feed a growing population.
About Semios
Founded in 2010, Vancouver-based Semios offers Precision Agriculture as a Service™ that includes real-time crop data and pest management tools for ag professionals. Leveraging a network of sensors that provide more than 500M data points measuring climate, water, insect and disease activity daily, we apply big data analytics and machine learning to reduce and mitigate crop risks and automate daily activities.
Semios has been named to the Global Cleantech 100, an annual list of the 100 most innovative cleantech companies globally, and the Thrive Top 50, list of the 50 leading global AgTech companies. Semios continues to grow its crop management platform by partnering with other leading decision-aid farming solutions and recently acquired Agworld, Altrac and Centricity to deliver more value to ag professionals under one login. Learn more about Semios at www.semios.com.