MDA Acquires Digital Payload Division of Satixfy for $54.3M to Strengthen Digital Satellite Capability in Growing LEO Constellation Market
Further strengthens MDA's digital satellite capability in growing LEO constellation market
Richmond, BC, August 31, 2023--(T-Net)--MDA Ltd. (TSX:MDA), a leading provider of advanced technology and services to the rapidly expanding global space industry, today announced it has signed a definitive agreement to acquire SatixFy Space Systems UK Ltd. (SSS), the digital payload division of SatixFy Communications Ltd. (NYSE AMERICAN: SATX), and other strategic considerations.
The transaction, valued at approximately $54.3 million (US$40 million), will help further strengthen MDA's global leadership position in the growing market for digital satellite communications solutions.
Mike Greenley, Chief Executive Officer, MDA
"The acquisition of SatixFy's digital payload division advances MDA's satellite systems strategy as we continue to invest and expand in next generation satellite technology and talent to meet growing customer demand," said Mike Greenley, CEO of MDA.
"MDA and SatixFy have worked together to advance our digital satellite technology solutions and our teams are well acquainted, highly complementary and collaborative. This acquisition is a natural next step in solidifying and strengthening our market position and addressing customer demand as we continue to capitalize on the growth in the Low Earth Orbit (LEO) satellite communication market."
On closing of the transaction the digital payload division (SSS), based in the United Kingdom, will be integrated into MDA UK, the company's existing UK subsidiary.
The acquisition accelerates MDA's market expansion in the UK and adds strategic in-country capability to produce satellite payloads.
In addition, the SSS team will collaborate closely with the company's Satellite Systems business in Montreal to advance MDA's new digital satellite product offering, adding complementary digital payload expertise and capacity.
MDA has also secured access to SatixFy's next generation digital satellite chipset to meet customer demand for digital satellite solutions via an inventory pre-purchase valued at approximately US$20 million.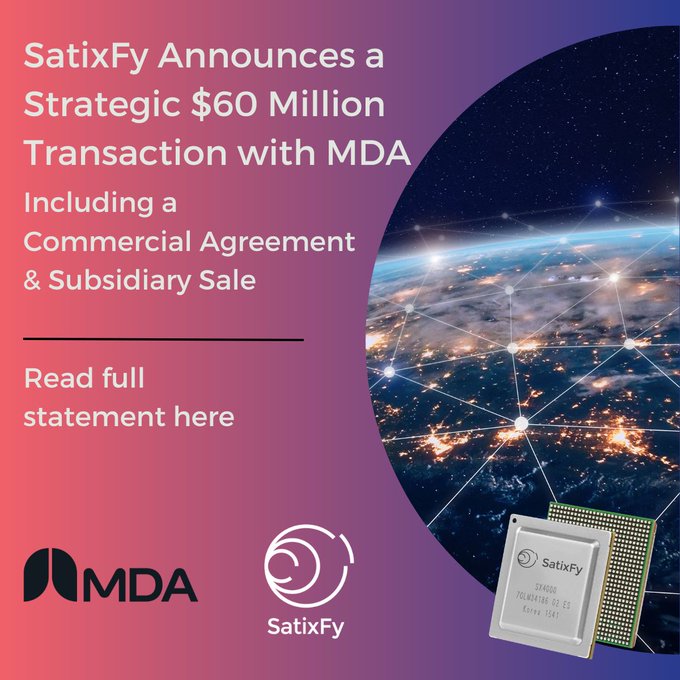 "This landmark agreement with MDA, a leading provider of advanced satellite technology, is a major achievement for SatixFy and represents a strong step forward in the commercialization of our technology," said Nir Barkan, Acting CEO of SatixFy. "MDA has been a steadfast SatixFy customer and we are thrilled to fortify this relationship further."
The acquisition is subject to customary closing conditions and is expected to be close in Q4 2023. MDA says it is funding the acquisition from cash on hand and from its existing credit facility.
ABOUT MDA
Serving the world from its Canadian home and global offices, MDA (TSX:MDA) is an international space mission partner and a robotics, satellite systems and geointelligence pioneer with a 50-year story of firsts on and above the Earth. With over 2,800 employees across Canada, the US and the UK, MDA is leading the charge towards viable Moon colonies, enhanced Earth observation, communication in a hyper-connected world, and more.
With a track record of making space ambitions come true, MDA enables highly skilled people to continually push boundaries, tackle big challenges, and imagine solutions that inspire and endure to change the world for the better, on the ground and in the stars. Learn more by visiting mda.space.