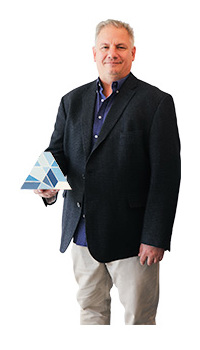 Mackenzie's leadership in drug development and technical operations will bolster the company's operational excellence, scale, and efficiency
Vancouver, BC, September 25, 2023--(T-Net)--Aspect Biosystems, a biotechnology company pioneering the development of bioprinted tissue therapeutics, today announced the appointment of Lloyd Mackenzie as the company's Chief Technical Operations Officer.
Mackenzie will oversee all facets of technical operations, including facilities and lab operations, manufacturing, quality control and assurance, regulatory, and project management, further fueling the growth of the company.
"Aspect is pioneering a new class of cell-based therapeutics that has the potential to revolutionize the standard of care for patients living with serious diseases," Mackenzie said. "I am thrilled to join the team of world-class scientists and engineers at this critical juncture for the company and I look forward to applying my experience to enhance our technical operations and bring these innovative medicines into the clinic."
Mackenzie is a seasoned biopharmaceutical development executive with over 25 years of strategic leadership experience spanning all stages of drug development across therapeutic areas, from discovery through to late-stage, global clinical trials.
Prior to joining Aspect, Mackenzie served on the C-suites of several clinical-stage life sciences companies. His diverse experience extends to chemistry manufacturing and controls (CMC), quality, regulatory, and technical operations.
Tamer Mohamed, President & CEO, Aspect Biosystems
"Lloyd brings significant leadership experience in drug development and technical operations, as well as a wealth of knowledge in transitioning from development to clinical stage," said Tamer Mohamed, CEO of Aspect Biosystems. "His expertise will make a crucial contribution to our growth and the progression of our mission to develop innovative, functional cures for debilitating diseases."
Mackenzie's appointment comes one month after the hiring of Diane Gardiner as Chief Human Resources Officer at Aspect Biosystems, and during a period of high growth at the company.
About Aspect Biosystems
Aspect Biosystems is a biotechnology company pioneering the development of bioprinted tissue therapeutics to transform how we treat currently incurable diseases. Aspect is creating these next generation cell therapies by applying its full-stack tissue therapeutic platform, which combines the company's proprietary bioprinting technology, therapeutic cells, biomaterials, and computational design.
Aspect's bioprinted tissue therapeutics are designed to replace, repair, or supplement biological function inside the body with the aim of treating currently incurable diseases such as type 1 diabetes as well as genetic and acquired liver diseases. Learn more at www.aspectbiosystems.com.