Nextech AR Solutions Reports Record Year End 2021 Financial Results, Total Revenue Up 47% YoY to $25.9 Million
2021 Record Revenue of $25.9 million +47%
2021 Renewable Software Licenses $1.4 million +316%
2021 Gross Profit of $9.8 million
Vancouver, BC, March 29, 2022--(T-Net)--Nextech AR Solutions Corp. (OTCQB: NEXCF, CSE: NTAR) has reported its financial and operating results for the full year and fourth quarter 2021 ending December 31st, 2021.
"In Q4 2021 we saw a substantial uptick in customer adoption of our technology that are either signing 12-month ARR contracts or annual repeat customers totalling $975,000. The company is seeing this uptick in new customers resulting in additional ARR continuing in 2022" said the company in a release.
The 2021 recurring revenue of $975,000 is broken down as follows:
12/31/2021- Annual Recurring Revenue (ARR) was approximately $475,000
Additionally in 2021 the company saw $500,000+ annual repeat business from customers
The above resulted in total Renewable Software Licenses revenue estimated at $1.4 million in 2021 +316% from 2020.
2021 Annual Financial Highlights:
Annual Total Revenue $25.9 million (up 47% from 2020)
Product Sales $19.2 million (up 38% from 2020)
Technology Services $5.3 million (up 55% from 2020)
Renewable Software Licenses $1.4 million (up 316% from 2020)
Annual Total Gross Profit $9.8 million (flat with 2020)
Product Sales $8.0 million (up 14% from 2020)
Technology Services $1.8 million (not comparable to 2020 as measured on different basis, see Q3 and annual MD&A for explanation)
2021 Q4 Financial Highlights:
Q4 Total Revenue $6.4 million (up 11% from Q3 2021)
Product Sales $4.2 million (down 8% from Q3 2021)
Technology Services $1.6 million (up 76% from Q3 2021)
Renewable Software Licenses $0.5 million (up 125% from Q3 2021)
Q4 Total Gross Profit $2.4 million (up 24% from Q3 2021)
Product Sales $1.5 million (down 16% from Q3 2021)
Technology Services $0.9 million (compared to gross loss of $0.2 million in Q3 2021)
Reduction of operating expenses by $1.5 million in Q4 2021 compared to Q3 2021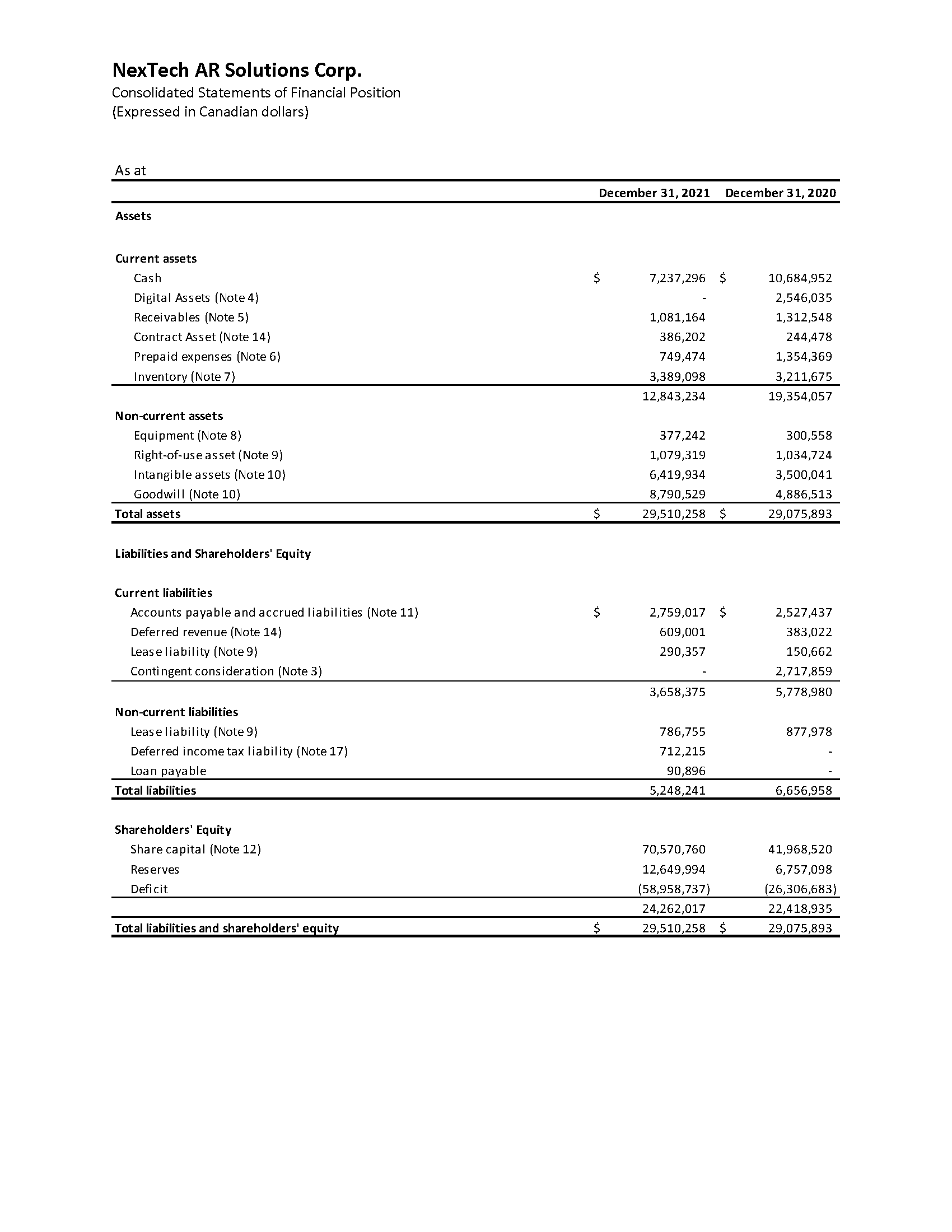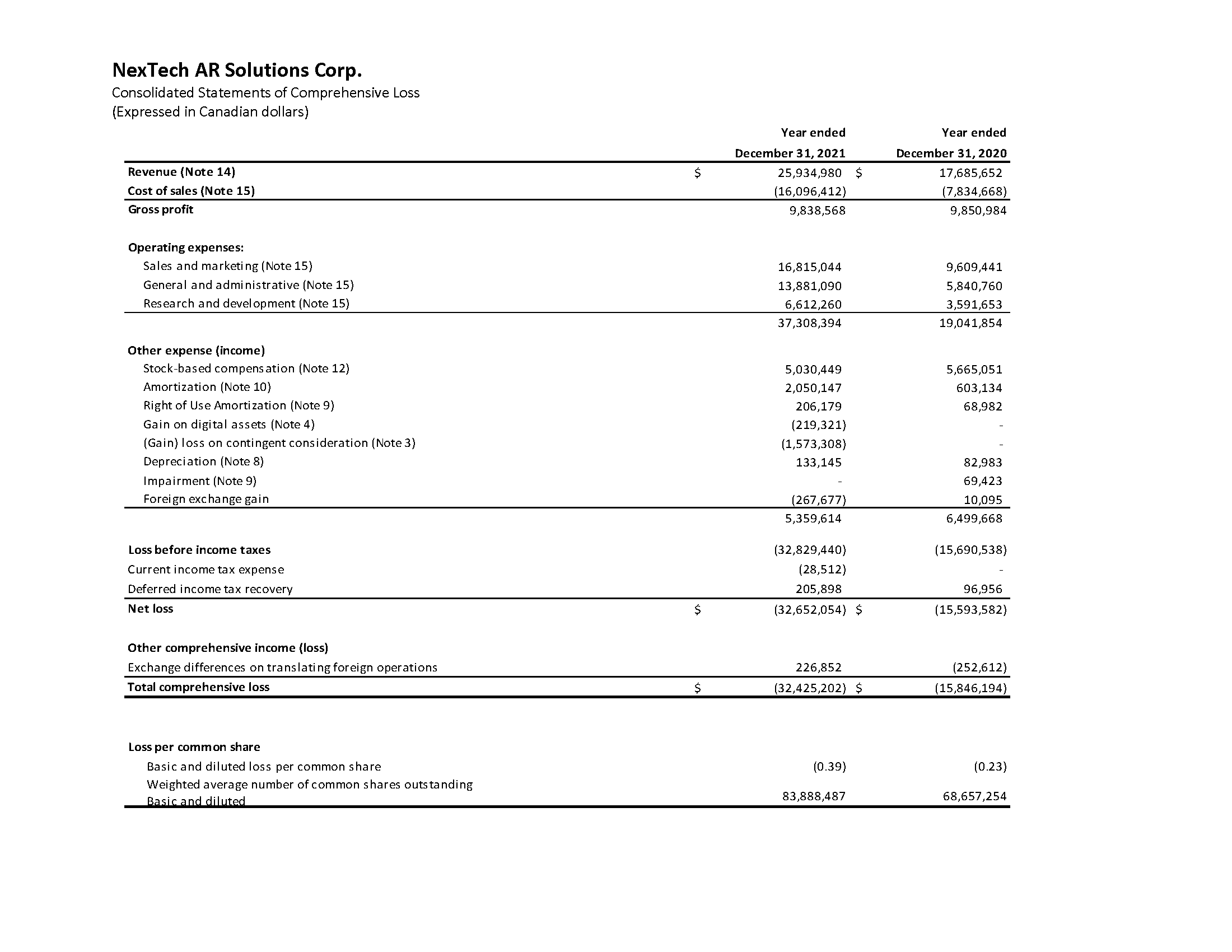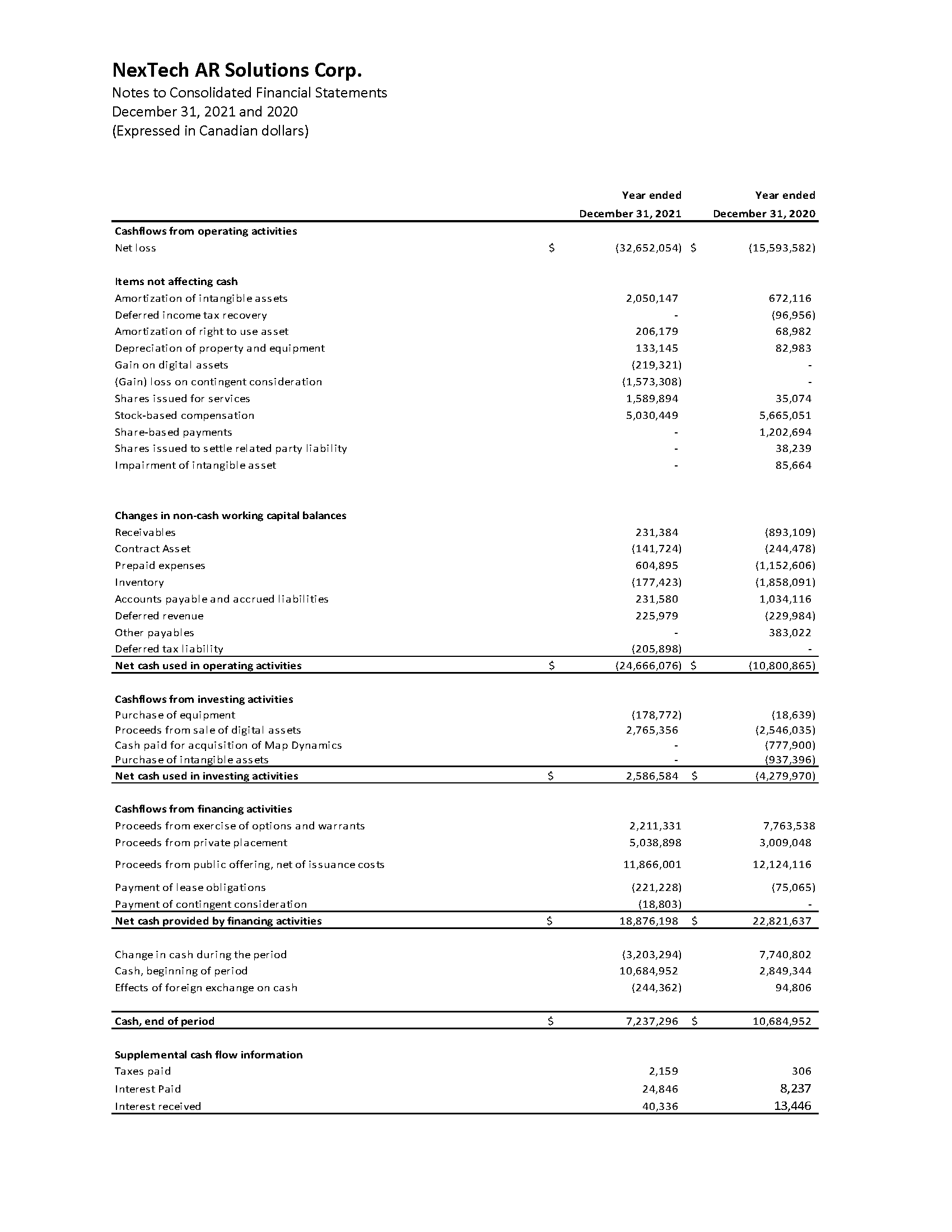 About Nextech AR
Nextech develops and operates augmented reality ("AR") platforms that transports three-dimensional ("3D") product visualizations, human holograms and 360° portals to its audiences altering e-commerce, digital advertising, hybrid virtual events (events held in a digital format blended with in-person attendance) and learning and training experiences.
Nextech focuses on developing AR solutions however most of the Company's revenues are derived from three e-Commerce platforms: vacuumcleanermarket.com ("VCM"), infinitepetlife.com ("IPL") and Trulyfesupplements.com ("TruLyfe"). VCM and product sales of residential vacuums, supplies and parts, and small home appliances sold on Amazon.
Non-IFRS Financial Measures
Total Bookings is not defined by and does not have a standardized meaning under International Financial Reporting Standards ("IFRS") as issued by the International Accounting Standards Board. This non-IFRS financial performance measure is defined below. Non-IFRS financial measures are used by management to assess the financial and operational performance of the Company.
The Company believes that this non-IFRS financial measure, in addition to conventional measures prepared in accordance with IFRS, enables investors to evaluate the Company's operating results, underlying performance and prospects in a similar manner to the Company's management. As there are no standardized methods of calculating these non-IFRS measures, the Company's approaches may differ from those used by others, and accordingly, the use of these measures may not be directly comparable. Accordingly, this non-IFRS measure is intended to provide additional information and should not be considered in isolation or as a substitute for measures of performance prepared in accordance with IFRS.
"Total Bookings" is the total dollar value of all services/goods included in contracts with our customers. 'Value' is the total revenue (recognizable or not) associated with each transaction, as opposed to the amount invoiced in the period.