Nano One Materials Provides Quarterly Progress Update and Reports Q2 2023 Results
Burnaby, BC, August 15, 2023--(T-Net)--Nano One Materials, a clean technology company with patented processes for the production of lithium-ion battery cathode materials that enable secure and resilient supply chains by driving down cost, complexity, energy intensity, and environmental footprint anounced today that it has filed its condensed interim consolidated financial statements, and management's discussion & analysis as at and for the six months ended June 30, 2023 and provided the following highlights from Q2 2023.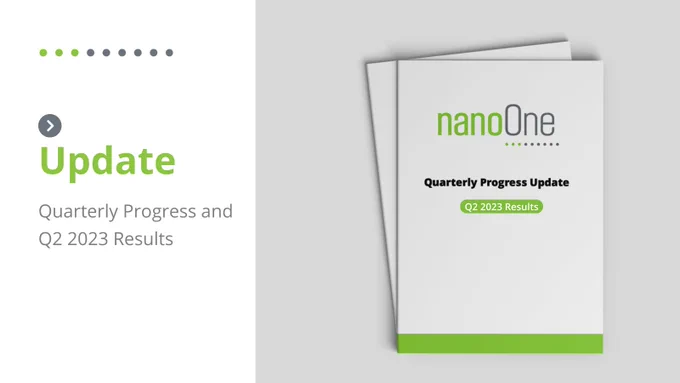 Q2 2023 Highlights and Headlines
Working capital of $30.0 million; cash of $34.4 million
Completion of Phase Two of Co-Development Agreement with CBMM
Joint Development Agreement with Our Next Energy (ONE)
Advancement of Commercial Plans for LFP
Six new patents issued and allowed in Canada, United States, and Japan
Proceeds of ~$3.0M from the exercise of stock options
Corporate Milestones for Q2 2023
Joint Development Agreement with Our Next Energy (ONE)
On June 14, 2023, the Company announced signing a Joint Development Agreement (JDA) with ONE to collaborate on the validation, qualification, and production of a North American supply of lithium iron phosphate (LFP) cathode active materials (CAM). The LFP CAM will be produced at Nano One's 200 tpa pilot facility in Candiac, Québec, for validation in ONE's production LFP cells used in its Aries and Gemini batteries, with the goal of a binding offtake agreement and expansion into future production facilities.
Successful Completion of Phase Two of Co-Development Agreement with CBMM
On May 17, 2023, the Company announced the successful completion of phase two of the co-development work with CBMM, the world's leading supplier of Niobium products and technology. Phase two successfully utilized CBMM's Niobium product to make coated nanocrystal high nickel (Ni>90%) NMC cathode active material. Enhanced durability was displayed using Nano One's proprietary One-Pot process and Metal to Cathode Active Material (M2CAM®) technology.
This achievement opens new doors of opportunity for the two companies to market and cross-collaborate with their existing customer bases to create market pull both for Nano One's patented technology and develop a new market for CBMM's sustainable, high-quality product. This also adds a secure and resilient supply chain partner to Nano's list of qualified automotive supply chain.
Advancement of Commercial Plans for LFP
On July 20, 2023, further to an update provided on April 24, 2023, the Company provided an update on its commercial plans which are aimed at jumpstarting the commercialization of its One-Pot process. To expedite commercial sampling, offtake and first revenues, the Company's Candiac facility in Québec is being retrofitted with its new One-Pot reactors and will be recommissioned initially at 200 tons per annum ("tpa") in Q3 2023, ramping up in steps to 2,000 tpa in 2024, and 10,000 tpa thereafter in a new and adjacent facility.
Nano One also has engineering work underway for a separate 100 tpa NMC and LNMO pilot facility. Having piloting capabilities for LFP, NMC and LNMO will enable Nano One to prototype, validate, design, and pilot a new generation of CAM and accelerate the commercial adoption of its One-Pot and sulfate-free M2CAM processes in pursuit of production, joint venture and licensing opportunities.
The Company reported that its lithium iron phosphate (LFP) trials, One-Pot reactors, sampling and pilot production plans are being expedited as previously outlined, and that initial engineering plans for its first full scale commercial plant are nearing completion. Nano began successfully producing tonne-sized batches in Q2 2023 using the existing commercial scale equipment. In parallel Nano is installing smaller modular One-Pot reactors, engineered and built in Québec with the aim of conducting smaller trials, evaluating new reactor designs and fast-tracking plans.
Six New Patents Issued and Allowed in Canada, United States, and Japan
Nano One also announced significant progress on key technologies with 6 new patents that are approved for issuance, or have issued, in Canada, United States, and Japan, bringing its global total to 33. In large part to ongoing support from Government of Canada programs, Nano One continues to extend the Canadian IP landscape and its own protections, all while growing economic activity.
Q2 2023 Financial Position and Results
Working capital of $30.0 million; cash of $34.4 million
Total assets of $52.6M (Q1 2023 - $56.9M)
Total liabilities of $7.4M (Q1 2023 - $7.5M) with no long-term debt
Net use of cash and cash equivalents of $5.7M
Proceeds from exercises of stock options ~$3.0M
Total investment (capitalized and expensed) on at its Candiac plant including equipment, retrofitting, engineering, and expansion totalled $3.4M ($4.3M year-to-date)
For a more detailed discussion of Nano One's interim Q2 2023 results, please refer to the Company's financial statements, and MD&A which are available at www.sedar.com
About Nano One®
Nano One Materials Corp. (Nano One) is a clean technology company with a patented, scalable and low carbon intensity industrial process for the low-cost production of high-performance lithium-ion battery cathode materials. With strategic collaborations and partnerships, including automotive OEMs and strategic industry supply chain companies like BASF, Umicore and Rio Tinto.
Nano One's technology is applicable to electric vehicles, energy storage, and consumer electronics, reducing costs and carbon intensity while improving environmental impact. The Company aims to pilot and demonstrate its technology as turn-key production solutions for license, joint venture, and independent production opportunities, leveraging Canadian talent and critical minerals for emerging markets in North America, Europe, and the Indo-Pacific region. Nano One has received funding from SDTC and the Governments of Canada and British Columbia.